Oxford City Morris Men
About us
Oxford City Morris Men perform traditional "Cotswold" Morris Dances collected from villages in Oxfordshire, Gloucestershire, Warwickshire and Northamptonshire.
Morris dancing is a custom with ancient origins. Many people believing that it is descended from pagan spring and summer fertility rituals or "good luck" ceremonies. Some of the dances we do today still reflect the origins of these ancient ceremonies, with their apparent emphasis on rebirth at May time, the seeking of good health for the crops and animals, and the hoped for guarantee of continuing fertility for all. What is certain is that morris dancers have been performing in the City of Oxford since the 15th century.
The dances survived in the Cotswold region long after they had ceased to be popular elsewhere. Even here the custom almost died out at the end of the 19th century, but for the efforts of folk dance enthusiasts who began to collect the dances. Oxford played an important part in this revival, as the first serious collecting of these dances was carried out by Cecil Sharp in Headington Quarry, after he had seen morris men perform on Boxing Day 1899.
Oxford Morris Men were founded in 1938 and were formed to compensate for the temporary demise of other Oxford sides at that time. The Oxford costume - red and blue ribbons, white clothing and traditional bell pads is based on that worn by the Headington Quarry Morris dancers at the time. Since 1959 we have had the privilege of wearing the City of Oxford crest on our baldrics - thus becoming 'The Oxford City Morris Men'.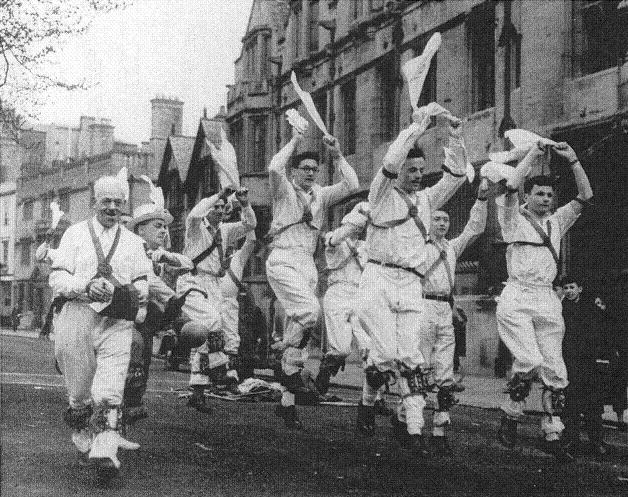 Oxford Morris 1953



Archive material - an index to materials held by the Records Office in Temple Cowley.
OCMM archives index001.pdf
OCMM archives index002.pdf
OCMM archives index003.pdf