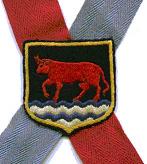 Oxford City Morris Men
May Morning
Oxford is famous for its May celebrations. It's not an organized event, just a very strong tradition.
May Day - 1st May
Venue - Oxford City Centre
Time - 6.00am onwards
The City men, and many other Morris sides, take part in the traditional May morning celebrations in Oxford. The men can be found gathering on the Oxford side of Magdalen bridge to listen to the choir of Magdalen College singing from the top of the college tower. Dancing begins around 6.15 a.m. in Radcliffe Square, beside the famous Camera, and continues for nearly three hours at various locations, including Broad Street, St Giles, and the Kings Arms! After breakfast most of the teams go off to other events around the district. In recent years, the festivities have continued from midday into the afternoon in North Parade, Oxford, just off the Banbury Rd.